Easter around the world
Do you know how Spain, Italy and other cultures celebrate Easter?

As a child, the only holiday to look forward to after Christmas was Easter. I knew that it was intended to commemorate the resurrection of Jesus, but, for me, by far the most important thing about Easter was chocolate. In February, or even earlier, the shops started filling their shelves with chocolate eggs and bunnies. On Easter Sunday we would normally have a roast lunch with some extended family, and my Mum would organize an Easter Egg Hunt. She would hide lots of small chocolate eggs in the garden and my cousins and I would keep the ones that we would find.
But is this the same all over the world? Let's find out.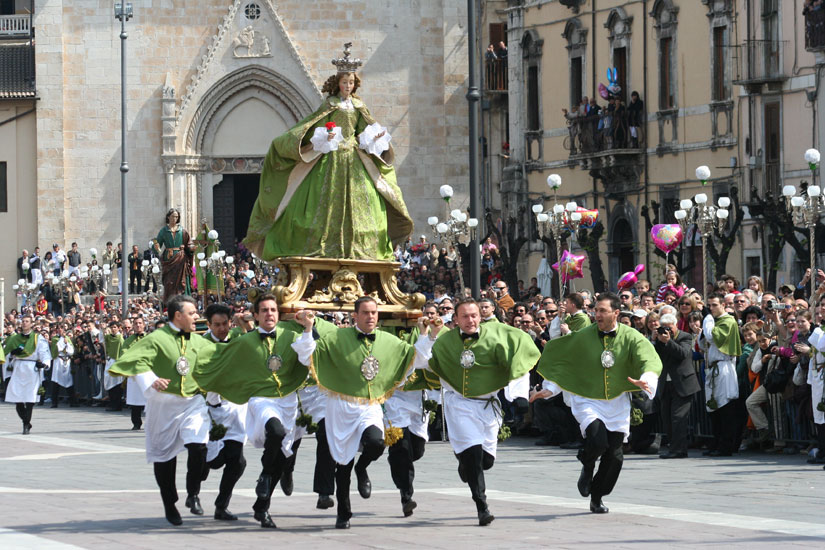 Spain
Spain has some of the biggest festivities in the world during Easter. Almost every place, from large cities to small towns, have some type of procession in the streets. It is common to see dozens of people carrying extremely heavy platforms depicting religious scenes (called pasos) or statues of Jesus on the cross. These may be so large and heavy that they need a hundred people to carry them. Other people may dress in the distinguishable black or white pointed-hat and robe. Although only Easter Friday and Monday are official holidays, children do not have school during the whole week, and Semana Santa (Holy Week) is a popular time to go on holiday. Sopa de ajo (garlic soup) is a traditional food during Easter, and torrija is a popular dessert of old bread, dipped in egg and milk, fried and covered in honey or sugar.
Italy
Although not as famous for their processions as Spain, Italy too has festivities throughout the country during the Easter week. In the town of Trapani the parade lasts 24 hours! Perhaps the most famous event in the country is the Scoppio del Carro (cart explosion) in Florence. A fire is made outside the Duomo (cathedral), and it is used to light thousands of fireworks from a 500-year-old cart. Colomba di Pasqua is similar to Pannetone eaten at Christmas, however it usually contains fruit peel and almonds, and is shaped like a dove. In the Vatican City, the Pope's Easter Sunday service is one of the most viewed religious services in the world.

Eastern Europe
In Czechia and Slovakia, people whip each other at Easter. That's right! Tradition has it that a woman who is whipped at Easter remains young and fertile all year. Women, in return, may throw water at men. In Poland and Hungary a similar tradition existed, but has evolved into an annual water-fight, on Easter Monday. In other countries in Eastern Europe, baskets of food are brought to church on Sunday to be blessed. On the Greek Island of Corfu, Easter Sunday is marked by smashing pots for good luck!
Africa
As Africa becomes more developed, the people have begun to start following some Western Easter traditions, such as giving chocolate eggs. However, traditional hymns may be sung to the beat of African drums! In Ethiopia Easter (or Fasika) is the most important Christian festival, and marks the end of a 55-day fast in which no animal products are consumed. In central Africa people may eat Fufu; a boiled dough made of maize or plantain, that is dipped in soup. In South Africa, pickled fish is more common at Easter!
America
Some places in South America follow the Spanish tradition of parading through the streets during Easter. In many places in South America, fish is the dish of choice for most families. In Ecuador, they make fanesca, a soup of vegetables and cod. In Chile and Argentina, fish may be put inside empanadas. In Mexico, El Salvadaor and Honduras, torta de pescado (fish cakes) are an Easter treat. The Dominican Republic makes abichuelas con dulce; a dessert made of beans, sweet potatoes and coconut milk.
In the United States, as with most Anglophone countries, hot-cross buns are a traditional type of sweet bread made with raisins. In a similar way to the Easter Egg Hunts that I remember from my childhood, the U.S. has egg-rolling competitions, which are a kind of race in which children push along hard-boiled eggs with a spoon.
What Easter traditions have we missed out? Do you do something special for Easter? Let us know in the comments section below.
Podcast: Play in new window | Download