Quick test of football terms!
When you watch a football match in English do you understand all the commentary? As the World Cup progresses this is the perfect time to brush up on your football lingo. Here's a little ten-question quiz, to see if you are a world champion, or not.
Highlight the Answers: To see them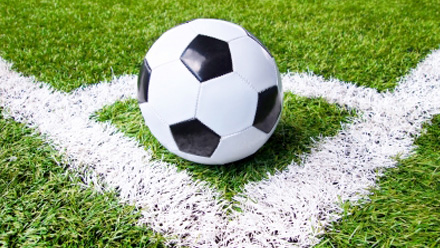 When the referee stops the game because of

incorrect play

, this is called a …
(A) Fraud                    (B) Tackle                    (C) Foul                     (D) Offense
Answer: (C) Foul 
"…Oh, that was clearly a foul! Robinson was obviously pulling on Keane's shirt…"
2. When the ball goes off the field, and a player uses his hands to restart the game – this is called a…
(A) Throw in               (B) Throw on              (C) Throw up                         (D) Throw to
Answer: (A) Throw in 
"…and that's another throw-in for Arsenal. Liverpool can't keep the ball on the pitch…"
3. The players who aren't on the pitch, that can be used as substitutes are said to be kept on the…
(A) Seat                       (B) Stool                                 (C) Chair                     (D) Bench
Answer: (D) Bench
"…It looks like O'Saville is coming on. He's been on the bench for the past two games…"
4. A confusing foul that occurs because a player passes the ball to his teammate, while this teammate is closer to the opponent's goal, than any opponent (except the goalkeeper) is called…
(A) Off-road                       (B) Off-side                                        (C) Off-played                   (D) Off-line
Answer: (B) Off-side
"…the referee has stopped play. Johnson isn't happy about that. He's shouting that he wasn't offside…"
5. Which of these words does not describe the player who typically scores goals?
(A) Forward                        (B) Striker                                            (C) Beater                           (D) Attacker
Answer: (C) Beater 
"…he's a fantastic striker, yeah. One of the best forwards in the history of the game. You really don't see many attackers like him…"

6. When a player pretends to be hurt or fall over, in order  to receive a free kick, this is called…
(A) Diving                            (B) Swimming                                    (C) Drowning                     (D) Flapping
Answer: (A) Diving
"…I can't believe it. The referee has given him a yellow card for diving! Well, maybe he'll think twice about doing that again…"
7. If a player scores three goals in the same match, this is known as a…
(A) Foot-trick                     (B) Magic-trick                                   (C) Hat-trick                        (D) Field-trick
Answer: (C) Hat-trick
"…And Keane scores a hat-trick! And the crowd goes wild!…"
8. What word describes the full uniform of a football player?
(A) Dip                                  (B) Kit                                                    (C) Mop                               (D) Fan
Answer: (B) Kit
"…This is the first game Everton are playing with their new kit…"
9. If a player is able to pass the ball between the legs of another player, this is known as a …
(A) Cumin                              (B) Mint                                (C) Cinnamon                 (D) Nutmeg
Answer: (D) Nutmeg
"…Fantastic skills from Delange. He's gone around three defenders already. And he nutmegs Phillips! …"
10. Badly behaved fans that are known to cause problems inside and outside football stadiums are often called…
(A) Fooligans                         (B) Hooligans                 (C) Tooligans                         (D)Schmooligans
Answer: (B) Hooligans
"… On behalf of the England team, I want to apologise for the behaviour of some of our fans. These hooligans don't represent us…"
How many did you get right out of ten? If you got all ten, then you are truly a football master!
If you have any questions or doubts, let us know in the comments section below!