7 ways to learn vocabulary in the 21st century
Vocabulary is famously difficult to learn. Many boring hours have been spent by language students in the past practising lists of words. Perhaps they learned, and perhaps they didn't. But, surely, today, there must be better ways of learning vocabulary than reading a dictionary, right?
There are some people who like to read and memorise lists, but for everyone who doesn't, here are some ideas for you.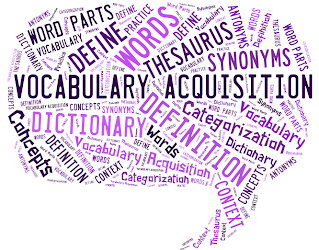 (1) Patterns
Vocabulary doesn't follow rules like grammar does. This is one of the main reasons learning grammar is easier – it is much easier to create your own sentences of things you can 'eat', rather than things you can do with an 'apple'.
However, there are some patterns to vocabulary, and they can help you learn new words. I don't recommend trying to learn all words that begin with -counter, but I do recommend learning that –counter generally means 'against' – so that the next time you see a word you don't understand that begins with -counter, it is more likely that you can guess the meaning.
This can be particularly useful is your mother tongue is a Latin language, as there are thousands of words that are almost identical. The classic example of this is words that finish in –ion, that are generally very similar between English, Spanish, French, Italian (-one) and Portuguese (-ção).
If you are a linguistics nerd, like me, here is some further information on how to use this method.
(2) Write in the back of your book. SERIOUSLY.
I cannot express how important this can be. Simply by allowing yourself to see a word more than once over a few weeks can be the difference between learning or not. So, keep a list somewhere you will find it!
Make looking at your vocab list the first thing you do when you enter class. If you don't have a book that you always look at, then find something else that you do always have. I have known some students who have vocab 'notes' on the desktop of their computer.
(3) Apps
Why are we in the 21st century if not to learn from the palm of our hands?!
MEMRISE is an award winning language learning app. Whereas duolingo generally focuses on sentence structure and overall proficiency, memrise is known to be particularly efficient for learning vocabulary.
Roots to Words app takes a look at language in patterns – like I mentioned above. It isn't designed for second language learners, so may be difficult!
Quizlet  claims to help students with all sorts of subjects. Within the app, you can search for vocabulary sets (as well as whatever else you'd like to learn). This can be a good way to better your knowledge of a particular type of vocabulary, whether it be human biology or words related to coffee.
(4) Sticky notes on your fridge
Are you thinking that this isn't a 21st century method? Of course it is!
Buy a pack of sticky notes, and have them next to you when you are practising English – even take them into class with you! When you find a word you don't know, write it on a sticky note and draw a little picture.
If the word is not a tangible object, draw something that resonates with you. For example, for hope you could draw a dove.
When you are at home, stick them to your fridge or somewhere else you often see. Don't remove them until you know them!
(5) Audiobooks
The best way to learn vocabulary is to read. But if you find it difficult to sit down and take out a book, or you don't find it so relaxing, then try audiobooks. If you don't understand every word, it doesn't matter. Little by little, everything will make sense.
There are many free audiobooks on different websites, as well as many that can directly be found on youtube.
(6) Podcasts
I can't tell you what podcasts to listen to, because everyone has different tastes, but I can tell you a great place to listen to them. Tunein.com has a searchable selection of podcasts in all languages. You can look for podcasts on particular topics, or search for your favourite speaker.
While listening to podcasts, note down words or sentences that you don't understand, and rewind the podcast to listen to difficult parts again. If a podcast seems too difficult, then leave it, and try it again later on.
(7) News and Radio
Although I now use Tunein.com to listen to podcasts, I originally used it to listen to the radio. This fantastic tool allows you to listen to most major radio stations in the world, wherever you are. The BBC World Service is one of my favourites, as it gives insightful stories from around the world, with a quick world news update every half an hour. You can search for a radio station by its language, location, or content, as well as its name.
Last, but not least, reading always has been and always will be the number one way to learn new vocabulary. I recommend making a news website, like The Guardian, or The Huffington Post, the homepage of your computer or phone. If you prefer to read something in English, but with a more local touch, many places have an English language news page, such as the Buenos Aires Times.
(?) More
Are there other ways of learning vocabulary? There must be! What do you do to practise your language skills? Is there anything we have missed out? Let us know in the comments section below.
Podcast: Play in new window | Download