New Year, New Me – A New Year Monologue
Hello again, English learners, and welcome back to the blog. It's a brand new year and we're already moving quickly into 2020. So, today I've written a short monologue based around the New Year.
You can read the text both with and without translations to test how much you understand. Well, let's do this.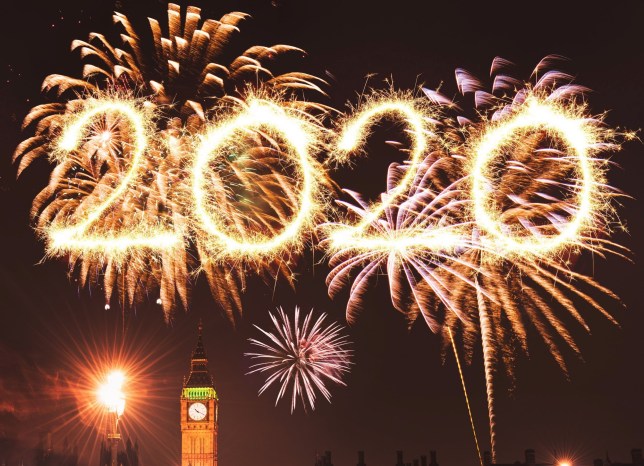 Without translations
(Sin traducción)
Hi again.
Happy New Year. 
We have officially entered 2020. 
It's a brand new year. 
Actually, it's a brand new decade.
How did you celebrate? 
Did you enjoy the fireworks? 
Maybe a few cold beers with friends? 
Hell, I know I did. 
I entered 2020 with a bang.
That's how it should be.
Some say, "new year, new me."

But, do you know what I say?
"New decade, still a renegade."
Oh yes… 
A lot has happened throughout the past ten years. 
Some big, life-changing events have occurred.
Presidents have changed, global warming has become the hottest topic… 
Plant-based diets are becoming more and more popular. 
We've made progress, and we've made mistakes. 
That's life, right?
What's happened in your life? 
What has changed for you? 
Did you post the "ten-year challenge" on Facebook? 
How do you look? 
I'm still looking as great as ever.
And my ego just keeps growing. 
Unfortunately, my hair doesn't. 
Well, now I'm getting sidetracked.  
Did you make any New Year's resolutions? 
Maybe you're gonna to work out more..?
… eat less… 
…save money for that special something?
A common resolution is to read more books, … 
…travel to new places or master a new language.
Maybe you're going to help others?
Give to charity or stand up for what you believe in…
It has to be said: the new year motivates us. 
It gives us hope, a chance to restart. 
Everybody needs a fresh start sometimes. 
I'm taking 2020 by the horns. 
It's gonna be a great year, I can feel it. 
What are your expectations for 2020?
Do you have any big plans? 
Well, whatever your hopes and dreams are, …
…I just know you can fulfil them.  
Here's to fresh starts and new beginnings. 
May 2020 be the best year yet. 
See you out there. 
Bye-bye.
With translations
(Con traducción)
Hi again.
(Hola otra vez)
Happy New Year. 
(Feliz año nuevo)
We have officially entered 2020. 
(Oficialmente, comenzamos el 2020)

It's a brand new year.
(Es un año completamente nuevo)
Actually, it's a brand new decade.
(En realidad, es una década completamente nueva)

How did you celebrate?
(¿Cómo celebraste?)
Did you enjoy the fireworks?
(¿Disfrutaste los fuegos artificiales?)
Maybe a few cold beers with friends?
(¿O capaz unas birras frias con amigos?) 
Hell, I know I did.
(Yo sí que puedo decir que sí)
I entered 2020 with a bang.
(Empecé el 2020 con toda)
That's how it should be. 
(Así es como debe ser)

Some say, "new year, new me."
(Algunos dicen: "un nuevo año, un nuevo yo"

But, do you know what I say?
(¿Pero yo sabés que digo?)
"New decade, still a renegade."
(Nueva década, y sigo siendo un renegado)
Oh yes… 
(Oh si…)
A lot has happened throughout the past ten years. 
(Pasaron muchas cosas en estos diez años)

Some big, life-changing events have occurred.
(Sucedieron algunos cambios de vida importantes) 
Presidents have changed, global warming has become the hottest topic… 
(Cambiaron presidentes, el calentamiento global se ha vuelto el tema más candente…)
Plant-based diets are becoming more and more popular. 
(Las dietas a base de vegetales se están volviendo cada vez más populares)
We've made progress, and we've made mistakes. 
(Hemos progresado, nos hemos equivocado)
That's life, right?
(Así es la vida, no?)
What's happened in your life? 
(¿Qué pasó en la tuya?)
What has changed for you?
(¿Qué ha cambiado para vos?) 
Did you post the "ten-year challenge" on Facebook?
(¿Posteaste el "desafío de los diez años" en Facebook?)
How do you look? 
(¿Qué look tenés hoy?)
I'm still looking as great as ever.
(Yo me veo igual de bien que siempre)
And my ego just keeps growing.
(Y mi ego sigue creciendo)
Unfortunately, my hair doesn't. 
(Desafortunadamente, mi pelo no)
Well, now I'm getting sidetracked. 
(Bueno, me voy de tema)
Did you make any New Year's resolutions? 
(¿Tomaste nuevas resoluciones este año nuevo?)

Maybe you're going to work out more..?
(¿Quizás hacer más ejercicio?)
… eat less… 
(… ¿Comer menos…)
…save money for that special something?
(… ahorrar dinero para algo especial?)
A common resolution is to read more books, … 
(Una resolución bastante común es leer más libros,…)
…travel to new places or master a new language.
(… viajar a lugares nuevos o aprender un idioma nuevo)
Maybe you're going to help others?
(¿Quizás ayudar a otros?)
Give to charity or stand up for what you believe in…
(Hacer alguna donación o apoyar alguna causa en la que creas…)
It has to be said: the new year motivates us.
(Debemos reconocer que el año nuevo nos motiva) 
It gives us hope, a chance to restart.
(Nos da esperanza, una oportunidad para comenzar de nuevo)
Everybody needs a fresh start sometimes.
(Todos necesitamos volver a empezar a veces)
I'm taking 2020 by the horns. 
(Yo me tomo el 2020 por las astas)
It's gonna be a great year, I can feel it.
(Será un gran año, lo presiento) 
What are your expectations for 2020?
(¿Cuáles son tus expectativas para el 2020?)
Do you have any big plans? 
(¿Planeaste algún proyecto grande?)
Well, whatever your hopes and dreams are, …
(Bueno, sean cuales fueren tus sueños y expectativas…)
…I just know you can fulfil them. 
(…Simplemente sé que están a tu alcance)
Here's to fresh starts and new beginnings. 
(Brindo por partir de cero y comenzar de nuevo)
May 2020 be the best year yet.
(Qué el 2020 sea el mejor año de todos)
See you out there. 
(Nos vemos por ahí)
Bye-bye.
(Adiós)
Podcast: Play in new window | Download